Dissidia Final Fantasy NT [FitGirl Repack] (Size: 9.76 GB)

4.33 GB
1.65 GB
1.27 GB
980.75 MB
896.77 MB
387.40 MB
279.77 MB
29.43 MB

FitGirl releases on 1337x.url

117.00 B

FitGirl releases on KAT.url

173.00 B
436.00 B
101.00 kB
155.00 B
7.24 MB

Verify BIN files before installation.bat

54.00 B
Files view Limit 50 — Current Torrent have 15 files
---
Description
Dissidia Final Fantasy NT: Deluxe Edition + 110 DLCs + SP + MP
Release Date:
March 12, 2019
Genres/Tags:
Arcade, Fighting, Third-person, 3D
Developer:
Team Ninja
Publisher:
Square Enix
Platform:
PC [Repack]
Engine:
in-house
Steam User Rating: 38% of user reviews are positive (based on 1,584 reviews)
Interface Language:
English, French, Italian, German, Spanish - Spain, Japanese, Traditional Chinese, Korean
Audio Language:
English, Japanese
Crack:
DLC Unlocker V2 by 0xdeadc0de
Minimum requirements:
Operating System: Windows® 10 64-bit
Processor: Intel® Core™ i5-2550 or AMD FX-6300
RAM: 8 GB
Video Card: Radeon™ RX 460 or NVIDIA® GeForce® GTX 1050
DirectX: 11
HDD Space: 24 GB
Screenshots - click to enlarge
If you don't see screens - disable your adblock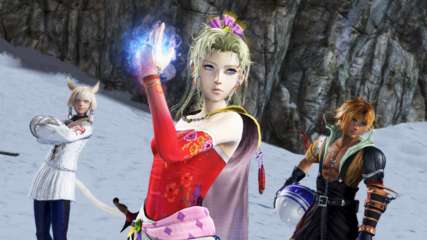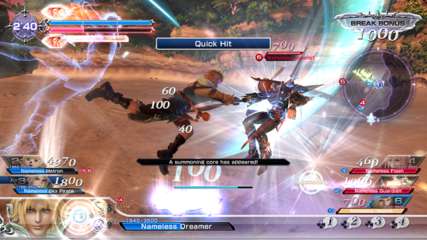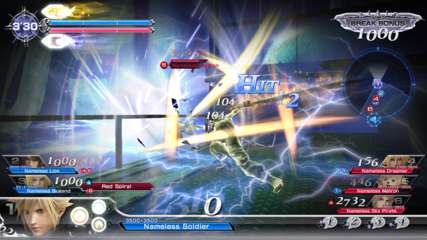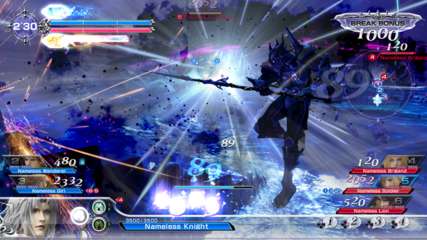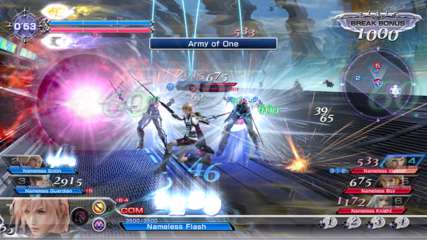 Description:
With the struggle between order and chaos quelled by saviours from beyond, the realm was destined to fade from existence. Instead, an arcane power has breathed new life into it—bestowing these decaying remains with purpose once more. The fight has begun anew, and the world is your arena.
Over twenty-four of FINAL FANTASY's most recognisable faces have assembled to take part in interdimensional fisticuffs. Face off against other teams in action-packed, three-on-three melees that require sense as well as strength to win. Each combatant can be one of four types: vanguard, assassin, marksman, or specialist; play off your allies' fighting styles, master the bravery system, and emerge triumphant from the clash of steel and sorcery!
In addition to standard battles, there will be skirmishes that employ special rulesets, along with cutscenes that tell the story of this reborn world, the gods that rule it, and the warriors who fight for it.
Game Features
3rd Appearance Special Set for Terra & Kefka
Ace Starter Pack
Akademeia Summer Uniform Appearance Set for Ace
Arc Sword, Tidus's 4th Weapon
Archduke of Jeuno I Appearance for Kam'lanaut
Armaments IV, Noctis Lucis Caelum's 4th Weapon Set
Arsenal IV, Bartz Klauser's 4th Weapon Set
Arsenal IV, Firion's 4th Weapon Set
Astral Rod, Yuna's 4th Weapon
Away Uniform Appearance Set for Jecht
Bartz Klauser Starter Pack
Benevolent Maiden Appearance Set for Terra Branford
Bladewielder Appearance Set for Onion Knight
Cardinal, Rinoa Heartilly's 4th Weapon
Cecil Harvey Starter Pack
Cecil Reimagined Appearance Set for Cecil Harvey
Cloaked Anchorite Appearance Set for Kuja
Cloud of Darkness Starter Pack
Cloud Strife Starter Pack
Cloudy Wolf Appearance Set for Cloud Strife
Conflicted Hero Appearance Set for Vaan
Crimson Blitz, Lightning's 4th Weapon
Destructive Tentacles, Cloud of Darkness's 4th Weapon Set
Devoted Returner Appearance Set for Locke Cole
Divine Blade, Kam'lanaut's 4th Weapon
Edea's Corpse Appearance Set for Ultimecia
Emperor Starter Pack
Excalibur, Ramza Beoulve's 4th Weapon
Exdeath Starter Pack
Fallen One Appearance Set & 5th Weapon for Kefka Palazzo
Firion Starter Pack
Fledgling Warrior Appearance Set for Warrior of Light
Freelancer Appearance Set for Bartz Klauser
Fusion Sword, Cloud Strife's EX weapon
Garland Starter Pack
Glacial Guard, Snow Villiers' 4th Weapon
Golbez Reimagined Appearance Set for Golbez
Golbez Starter Pack
Golden Sword / Omnirod / Kiku-ichimonji, O. Knight's 4th Weap.
Hardened Zealot Appearance Set for Garland
Hyperion, Squall Leonhart's 4th Weapon
Jecht Starter Pack
Kain Highwind Starter Pack
Kam'lanaut Starter Pack
Kefka Palazzo Starter Pack
Kingly Raiment Appearance Set for Noctis Lucis Caelum
Knight of Etro Appearance Set for Lightning
Kuja Starter Pack
Laevateinn, Shantotto's 4th Weapon
Lance of Ordeals, Kain Highwind's 4th Weapon
Lightning Starter Pack
Locke Cole Starter Pack
Lucent Robe Appearance Set for Cloud of Darkness
Magician's Deck, Ace's 4th Weapon
Ministerial Vestiture Appearance Set for Shantotto
Nightmare, Ultimecia's 4th Weapon
Noctis Lucis Caelum Starter Pack
Novus Appearance Set for Vayne Carudas Solidor
Obsidian Scales, Golbez's 4th Weapon
One-Winged Angel Appearance Set for Sephiroth
Onion Knight Starter Pack
Organyx, Cloud Strife's 4th Weapon
Orichalcum, Zidane Tribal's 4th Weapon
Overture, Lightning's EX weapon
Party Dress Appearance Set for Rinoa Heartilly
Platinum Sword, Vaan's 4th Weapon
Pluto Uniform Appearance Set for Zidane Tribal
Ramza Beoulve Starter Pack
Recompense, Vayne Carudas Solidor's 4th Weapon
Resolute Rebel Appearance Set for Firion
Rinoa Heartilly Starter Pack
Rod of Censure, the Emperor's 4th Weapon
Root of Evil Appearance Set for Exdeath
Sanctifying Dragoon Appearance Set for Kain Highwind
Scion Healer's Robe Appearance Set for Y'shtola
Season Pass
Second Coming, Sephiroth's 4th Weapon
SeeD Uniform Appearance Set for Squall Leonhart
Sephiroth Starter Pack
Shantotto Starter Pack
Shire Crook, Y'shtola's 4th Weapon
Sin's Spur, Jecht's 4th Weapon
Snobbish Turban Appearance Set for Kefka Palazzo
Snow Villiers Starter Pack
Squall Leonhart Starter Pack
Sun Blade / Diamond Shield, Warrior of Light's 4th Weapon Set
Terra Branford Starter Pack
The Espers' Progeny App. Set & 5th Weapon for Terra Branford
Thinking Cap, Kefka Palazzo's 4th Weapon
Tidus Starter Pack
Truth Seeker, Y'shtola's EX weapon
Turbid Cores, Kuja's 4th Weapon Set
Ultimecia Starter Pack
Vaan Starter Pack
Valiant Knife, Locke Cole's 4th Weapon
Vayne Carudas Solidor Starter Pack
Violet Robe Appearance Set for the Emperor
Virtuous Mercenary Appearance Set for Ramza Beoulve
Void Sword, Exdeath's 4th Weapon
Waning Blade / Waxing Blade, Cecil Harvey's 4th Weapon Set
Warrior of Light Starter Pack
Wedding Gown Appearance Set for Yuna
Wild Bear Appearance Set for Snow Villiers
Y'shtola Starter Pack
Yuna Starter Pack
Zanarkand Abes Uniform Appearance Set for Tidus
Zanmato, Garland's 4th Weapon
Zantetsuken, Terra Branford's 4th Weapon
Zenos yae Galvus Starter Pack
Zidane Tribal Starter Pack
Repack Features
Based on Steam release with all DLC files included: 24 GB, thanks to Canzah!
DLC Unlocker V2 by 0xdeadc0de is available in "_DLC Unlocker" after installation along with modified CODEX offline crack just in case
100% Lossless & MD5 Perfect: all files are identical to originals after installation
All 110 DLCs are included and activated, you can play all main and Deluxe characters any time both in MP and SP modes
NOTHING ripped, NOTHING re-encoded
Significantly smaller archive size (compressed from 24 to 9.8 GB)
Installation takes 15-30 minutes (depending on your system)
After-install integrity check so you could make sure that everything installed properly
HDD space after installation: 24 GB
Language can be changed in game settings
Repack uses XTool library by Razor12911
At least 2 GB of free RAM (inc. virtual) required for installing this repack
Repack by FitGirl
Playing Instructions
Install the repack to any folder, but not to the Steam apps folder (the game uses too long filenames, which can cause troubles if installing to an alredy long path)
Make sure all files were verified properly after installation
Go to your Steam's "steamappscommon" folder and create a new folder named "DISSIDIA FINAL FANTASY NT Free Edition"
Now move all files from your installed repack folder to this newly created folder (you can skip unins000.dat and unins000.exe files)
Run your Steam and login to any account, better to a fake one, which you can allow yourself to be banned
Run dffnt.exe in "DISSIDIA FINAL FANTASY NT Free Edition", in pop-up window check if Steam will be installing the game in the proper main Steam folder
Let it discover all installed files - at this moment the game is already playable in "Free Edition" mode
Now copy all files from "_DLC Unlocker1" to game root folder and only then run the game
Now despite the game says it's "Free Edition" you can play all chars, use all DLC clothes/weapons, play in all Singleplayer and Multiplayer modes
Please notice, that due to a tiny number of users, matchmaking can take time - in my worst test session I was waiting for like 10 minutes or so to find me a party
Any minute the multiplayer part of the game may stop working, if developers will patch their servers or whatever - in that case check cs.rin.ru game topic for a new crack or bypassing method, if it will be made available
Problems during installation?
Read this repacks troubleshooting guide
https://fitgirl-repacks.site/repacks-troubleshooting/
---